Welcome to the Global Defenders of CP!
Recruitment Video of the Global Defenders
To join our glorious army simply Form of Glory. Also, if you are an army hoping to merge, merge here. Here are the questions. Answer truthfully:
Form of Glory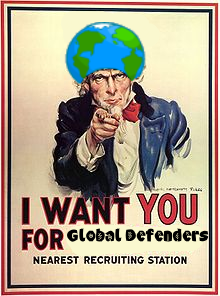 Once you've submitted your form, expect to get your rank within 24 hours. If you don't get your rank within 2 days of submitting your form, resubmit it and eMail Globaldefenderss@gmail.com (yes there are two "s"s). After you get your rank, your job is to follow the Global Defender Code (found on the empire page). Welcome to the GD. Also, bookmark this website so that you can easily find this site in the future.

We want you to come back, so don't join if you're never going to look at this site again
After you've joined, go on our chat: xat.com/GDArmy and explore our site. You should be going on chat as much as you can and during events. Our home page will have all the scheduled events in a post so check the home page daily. It is your job to attend these events. This is the Uniform you should wear to all events:
For Members
For Non-Members
See the Uniform Page for more Details.
In addition, it is recommended that you join the Training Regiment if you are new to CP armies. Join the Training Regiment here: http://gdacademy.wordpress.com/
Thank You for Joining the Global Defenders of Club Penguin!
Go on chat after you have joined so that we can give you your chat rank.